REGENT by RICO
2018, Adaptive reuse, restaurant, Total area: 120 sq.m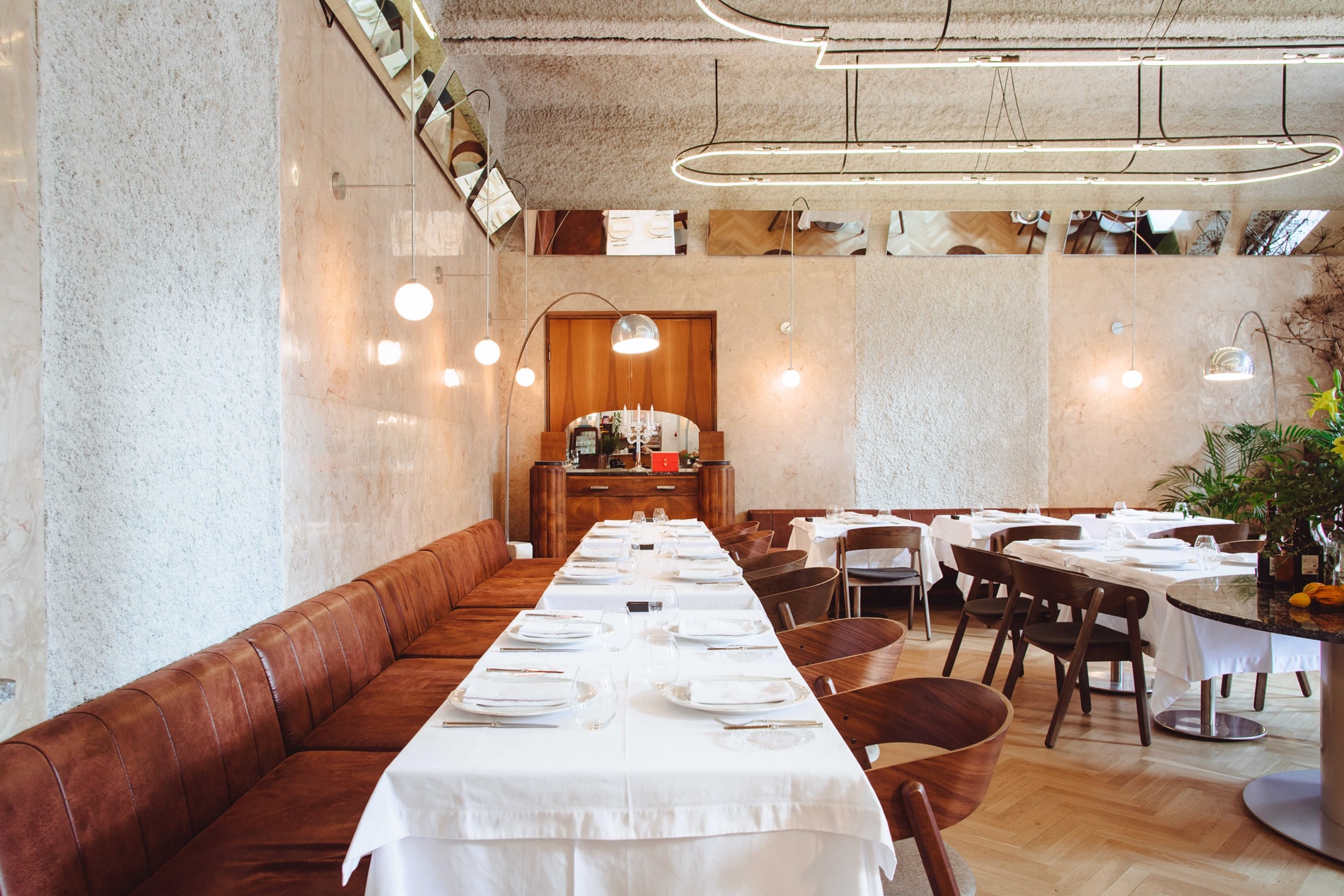 Project team: Tamara Muradova, Askar Ramazanov / Photographs: Max Avdeev
The interior can be called somewhat 'Ready-made', where the designer's presence is minimized.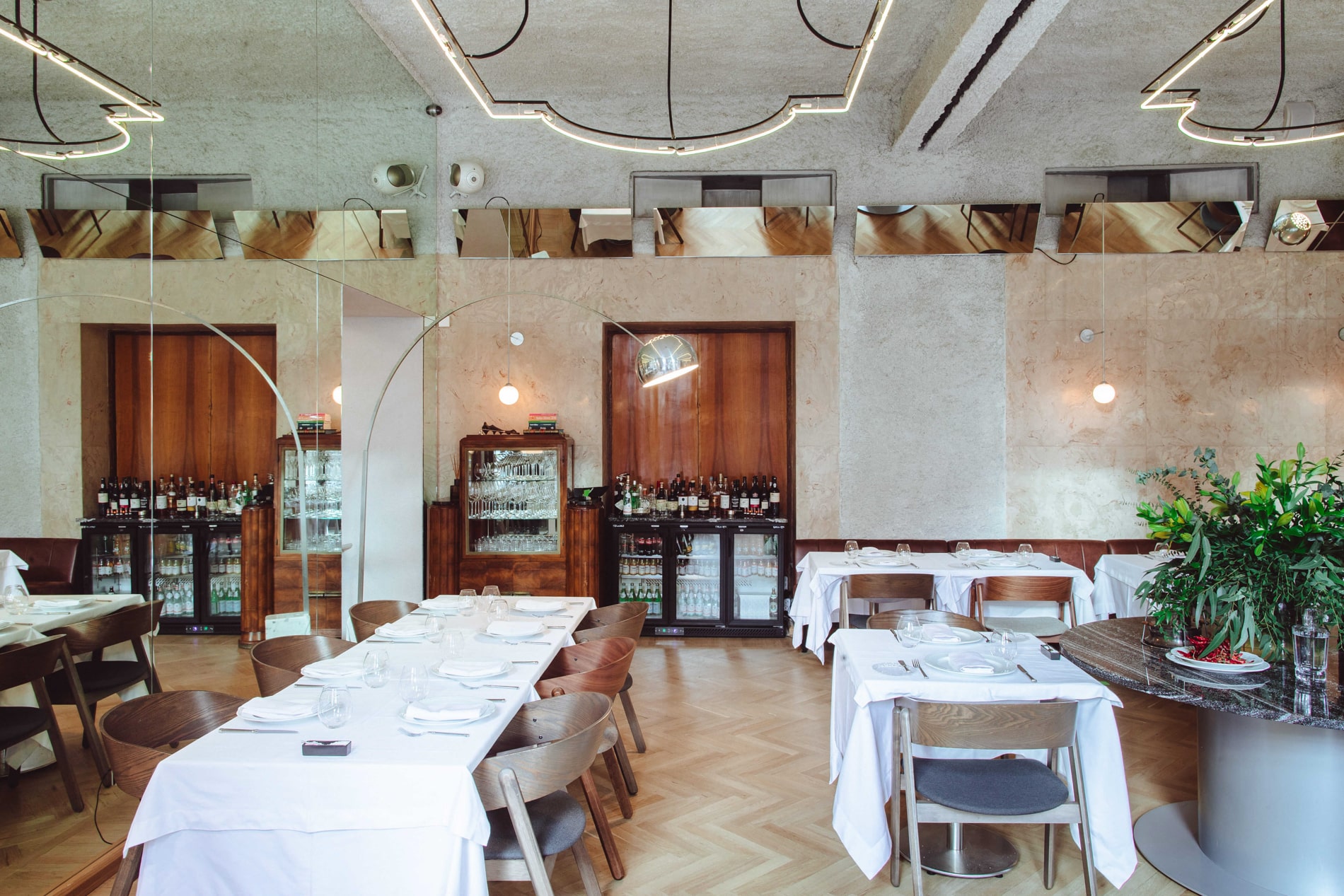 The restaurant with a total area of about 120 m2, consists of two functional areas: an open kitchen and main hall. It was decided to partially restore the style and preserve historical materials and textures: decorative plaster panels and marble plaster, oak floors, wide marble window sills, as well as interior doors made of Soviet veneer with a cherry texture. All the main elements of the interior are based on architectural designs: wall sconces, ceiling chandeliers, coffee/cashier stations in the kitchen area, central round table, open kitchen in the form of a transparent kiosk.
The idea of the project is simplicity and a tribute to exemplary artefacts of the past era, with the addition of retro-futurism, introduced through new elements.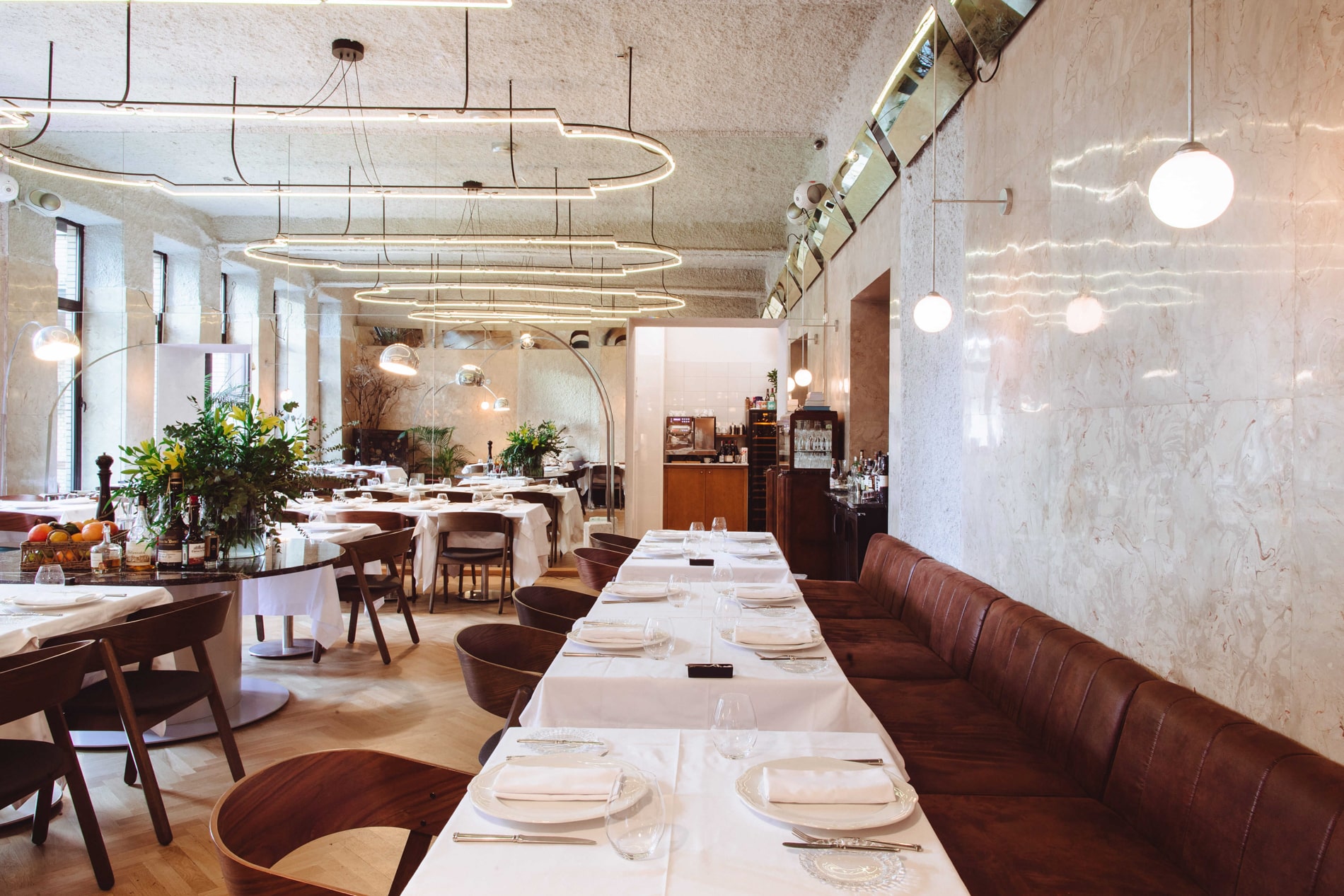 The restaurant itself is not big, and the designers wanted to make it visually seem twice the size, which added a certain theatrical nature to the space. The project of the restaurant doesn't create a visual image, but rather a special timeless atmosphere, so that the visitor, living in a dynamic metropolis, could find peace in this secret place and have a relaxed dinner, lunch, and spend some quality time.  This atmosphere is partly composed of lighting, the neon chandeliers and wall sconces allow you to direct and control the light. Combinations of quite different materials work in contrast: the hard decorative marble and mirror walls give a cold presence, while the soft textured ceiling surface like a "fur coat" creates an urban cave effect, and the wooden floor gives warmth.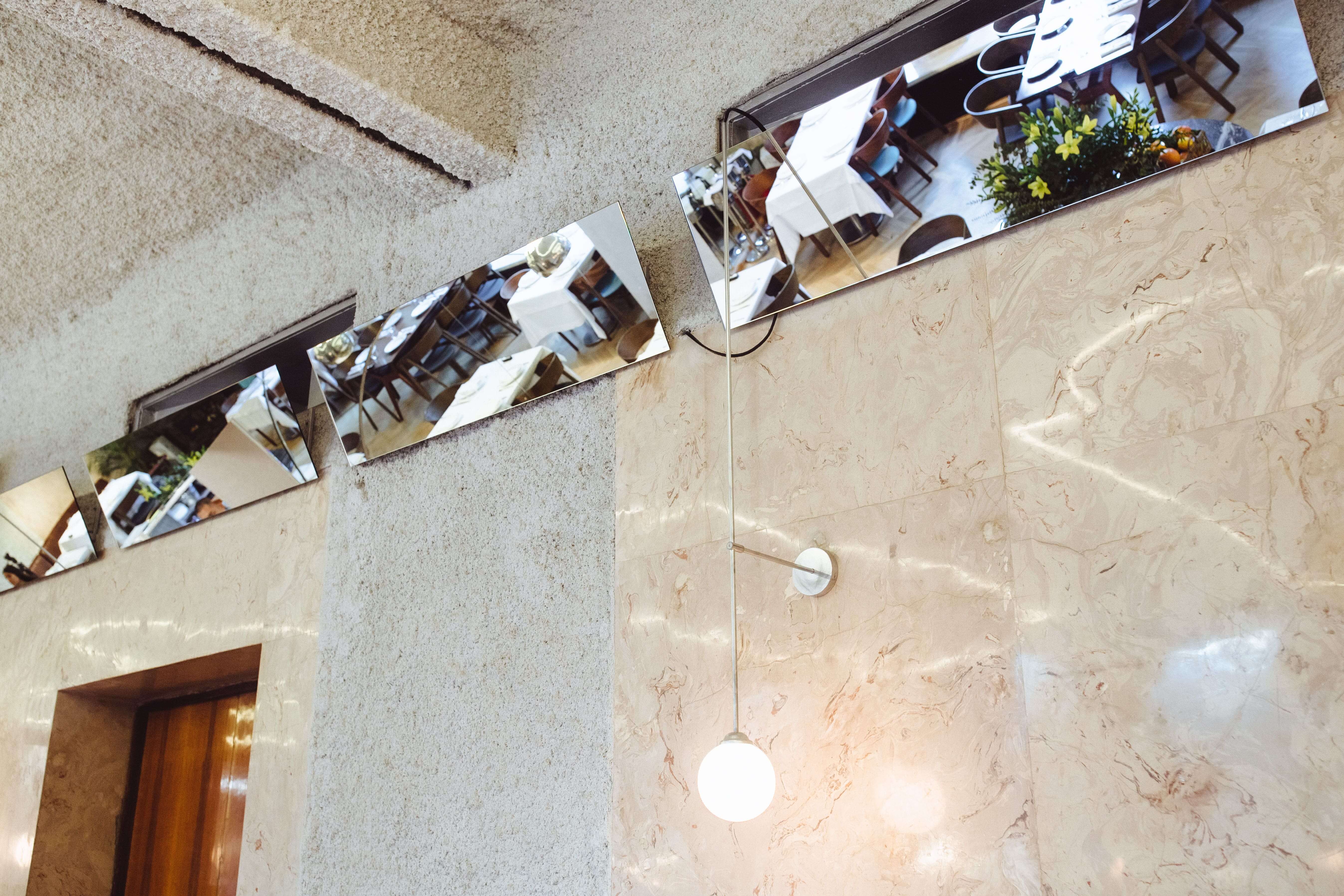 The original texture of the walls imitating natural stone was carefully restored. The oak floor with a herringbone pattern, a symbol of Soviet interior aesthetics, was carefully scraped and treated.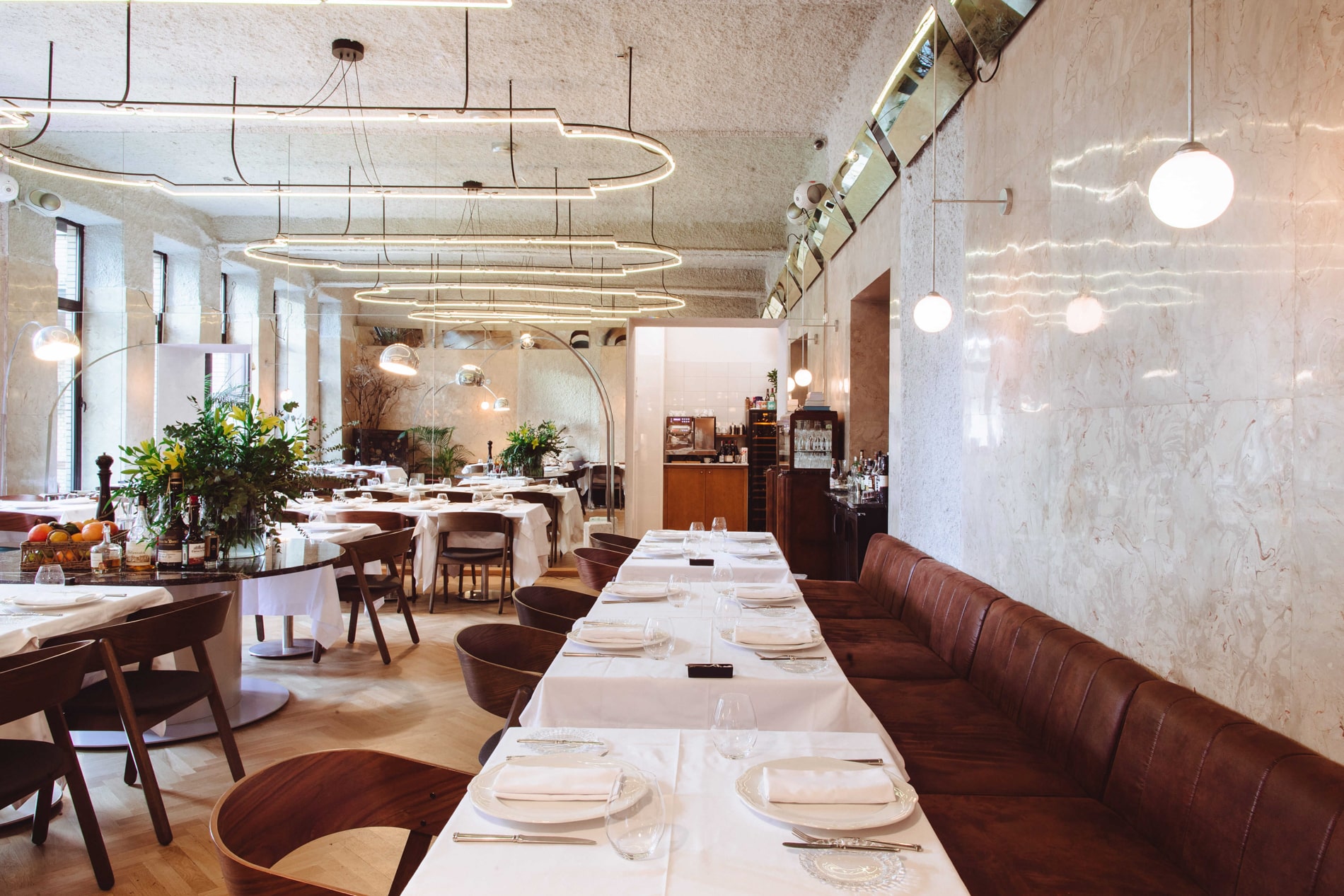 The marble window sills went through a thorough restoration process. The veneered Soviet doors are also important interior details.  In the warm season, the restaurant space expands with a cosy courtyard and a large open terrace. The restaurant is secret and is not easy to find, the main entrance is through the Arbat Hotel lobby, so for visitors entering through the first hall with the kitchen, this adds a certain intrigue and locality. The interior of the restaurant is simple and self-sufficient, its story is told through warm materials, lighting and historical context, which is deliberately left in the interior. The architects tried to approach the subject of its transformation in a very delicate way, to finish and imagine what was possible.